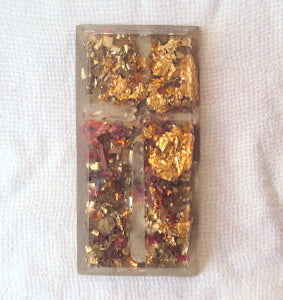 Orgone tile, the protection of your home entrance
$70.00
Intended to protect your house entrance from negative energies, to integrate or stick on the entrance door.
Contains precious and semi-precious gemstones: four white quartz crystals forming a cross, emeralds.
Precious metals: 24k gold leaves, brass shavings.
flowers of Mt Carmel.
Fine mineral powders: blue kyanite-pyrite-selenite-emerald.

Rectangle 4.5cmX9cm, 1cm height.