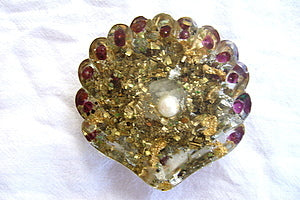 Orgone Seashell Pocket Chi Device
$70.00
A pocket chi device and meditation tool.
Enhances fertility and has a grounding and calming energy.
Contains semi-precious gemstones and crystals: pearl, white quartz, emerald and garnet.
Fine mineral powders: Selenite, blue kyanite and pyrite. Flowers and herbs of Mt Carmel.
Precious metals: 24K gold & silver leaves, brass shavings and copper fine powder.

Shell shape, 7 cm long, 6 cm wide, 1.5cm high.