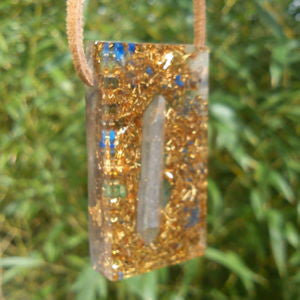 Golden Harmonizer, rectangle, emerald-lapis lazuli
$70.00
Contains semi-precious gemstones and crystals: a double terminated quartz crystal, lapis lazuli, emeralds.
Precious metals: 24K gold leaves, brass and copper powders and shavings.

Fine mineral powders: pyrite, selenite, blue kyanite, rose quartz.
Sacred geometry: amber and blue flower of life mandala at the back side.

A general harmonizer and protector.
Intended to harmonize the flow along our vertical axis, between earth and sky.
Rectangular design 4.7cm long, 2.2cm wide, 1cm high.
Serial number: L1044