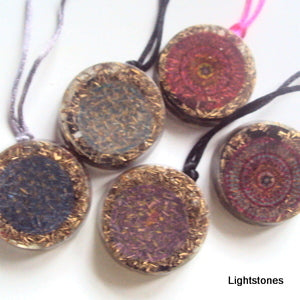 5 Mandala Orgone pendants, Special Christmas Deal
$200.00
A great deal for Christmas!

EMF and negativity protection, energy enhancing and harmonizing!
Contains a power graphic from the sacred geometry as harmonizer and energy enhancer: David Star mandala or Flower of life.

Precious and semi-precious gemstones: herkimmer diamond and emerald.
Precious metals: copper coil, brass shavings
Fine mineral powders: Selenite, blue kyanite and pyrite.
Cylinder shape
Size: 4cm diameter, 8mm high.
The flower of life pendant is available in blue, cyan, red, purple, turquoise, pink fuchsia, blue on gold, gold on black.
Please send us your choice by e-mail.