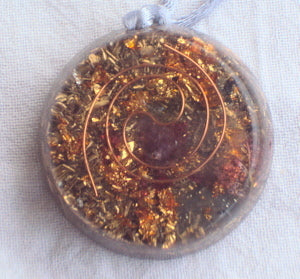 Golden Spiral Orgone Pendant, ametyst and aquamarine
$50.00
Unique orgone device designed to enhance creativity and the connection to the divine.
Contains precious and semi-precious gemstones: ametyst, aquamarine, emerald.

Fine mineral powders: Selenite, blue kyanite, pyrite.
Precious metals: 24K Gold leaves, copper spiral and brass shavings.
Sacred geometry: Flower of life mandala (red).

Cylinder shape, 4 cm diameter, 1.2 cm high.